Malchiks: Skavante-Garde
20th ANNIVERSARY DIGITAL RELEASE!
You read that correctly, the Malchiks only publicly released album is now available via digital download. Relive these 9 specially selected tracks during those moments you are pining for some serious old school Vancouver Ska and these old boys aren't around to entertain you.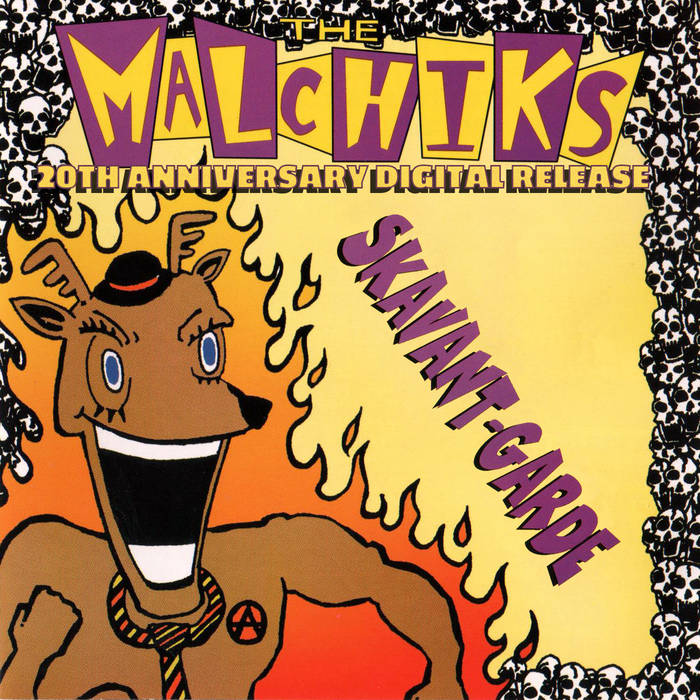 Find the new digital release here at bandcamp!
19th ANNIVERSARY REUNION SHOW!
w/ Brehdren & introducing MABACHACAGAS

This summer almost every original Malchik will be reuniting from across the continent to celebrate their 19th anniversary by playing all the ska classics their fans came to love.
Born over a decade past the Malchiks height of fame, Brehdren features two of the original gang. Specifically lead singer Scott E. Moil and saxophonist Lawrence Chew. United with an array of friends, almost family, Brehdren continue to keep the dancefloors hopping with ska in the new millennium. Brehdren will also be celebrating with their debut their first E.P "Out goes the Window".
Opening the evening are Mabachacagas, co-founded by the lead guitarist of the Malchiks. Like their invented moniker suggests, Mabachacagas love turning nothing into something - mostly music - delving into their varied musical interests, and hammering out original tunes that pay tribute to their hallowed influences of blues, rock, reggae, ska and punk rock. Mostly though, they just like to have fun.
Doors at 8:00pm - Tickets at the door $12.00
Advanced Tickets Available Online $10.00
Contact: scottemoil@malchiks.com
http://www.facebook.com/events/1553530931575507/
[Last updated May 18, 2015]
TEASER POSTERS for the 19 Anniversary!
MALCHIKS 2015 WORLD TOUR POSTER and SNEAK PEAK POSTERS FOR 2015 SHOW
After 12 years the skankin' machines reunite!
October 2012 Frank returned to Vancouver after his adventures in China and Libby flew in from The Lost city of Atlantis and Jay from...Campbell River! All sorts of die hard Malchiks fans from back in the day and a whole new generation skanked it up on the dancefloor packing the stage area of the bar as if the band was selling anarchy for free! Thanks to all who came out, it was a great show! Rawked out like it was 1999 and Scott E. Moil has the bruises to prove it.
October 5th 9:00pm at the RAILWAY CLUB where it all started during CiTR's Shindig! Malchiks performed celebrating the reunion after being apart for 12 years. Great thanks to Cindy of IMU Productions who handed over the headlining spot for the evening and in turn created an amazing collection of awesome live bands: The Still Spirits, Cornshed and Scott E. Moil's current musical project Brehdren. Easily ranked the coolest Friday in October.
The show was video taped and photographed and so there is a chance some of that may leak onto the net, but most of it will likely present itself throught the Malchiks Documentary currently in pre-production. Alas this will be the last reunion show for at least 5 years (a 20th Aniversary Show?!?) but all in all no one really knows with these guys! They had such a good time is possible it could become a more regular thing...but I wouldn't hold my breath.
---
Blast from the Past!
August 17th 2012 at The Backstage Lounge on Granville Island (Vancouver BC) the Malchiks performed a very special warm up show with The White Blood Cells and Brehdren.
Not in over a decade have this many members joined together and played such classics as "Jerry" or "Get over Me" or "Mario". Original drummer, bassist, 2 guitarists and the frontman, 2 Hornsmen of the Skapocalypse playing Sax and Trumpet and all the free anarchy you could handle.
They show was a great success, but compared to the perfomance to come in October it was truly just a warm up. Emblazing smiles on the audience's faces none the less. Scott E. Moil was in true form, skanking his way directly to insanity and the band sounded as electric and tight as ever despite the little rehearsal time between Libby's arrival in Vancouver and the night of the show.
Above: Setting up for the show at the Backstage Lounge.
Below: A live recording from the backstage lounge mixed with photos and video taken by Josh Trahan set to the first song of the evening "Skankenstein".
---
Members
| | |
| --- | --- |
| Scott E. Moil | Frontman/Singer |
| Frank | Percussion, guitars, vox & mastermind. |
| Marc "Uncle Giuseppe" Helsen | Guitar |
| Mike J. | Bass Guitar |
| Libby | Drums |
| Lawrence Chew | Saxaphone |
| Jason DaSilva | Keys |
| Braude | 303, guitar, vox |
| Nick | Trombone |
| Yoff | Trumpet |
| Jay H. | Trumpet |
| Mark G. | Trumpet |
| Chris Ball | Trombone, bass |
| Erik O. | Trombone |
| Mark F. | Tenor Sax |
| Pete | Skankin' Roadie |
| Davey | The Lazy Merch Guy |
---
Releases
Skavant Garde
Label: spawnerrecords.com
A paradox of modern music: a ska-punk band for the art-school types; a neo-culture for the cultureless.

Each time I listen to it, the bright lights come flashing back and the swirling melodies seduce me once again. Looking back on the fall of 1985, when 8 young Malchiks first picked up their instruments and changed their last names, who would have guessed, that they would soon move our of the projects and be the leaders of the New Wave? Eleven years later, still at the forefront of the scene they created, it seems all the more unlikely. Yet, bolstered by the harmonic overtones of Malchik #9, and by the relentless proto-noise drumming of the ever-mysterious tenth Malchik, the band surpassed the realm of experimentation and into the dizzying, sordid world of stardom.

It all sounds so innocent. Listening to their first record, who could have foreseen the legacy of drugs and debts that marked the band's transition from underground post-punk deconstruction to arena-show success. But beneath the checkers, the leather pants, and the shaved heads, it was always the music that came first. Yes, the music. "Ska," they called it back then. Kind of a glam-punk-reggae with a healthy dose of B-movie camp thrown it, seemingly at random. Who could forget the twisting, winding horn lines, the jazz-like improvisation, the Santa Cruz guitar; and the operatic tremolo.

The beginning of an era, yes, but also much more. A new beginning each time I listened to it. A tight wave of musical sensibility and inner-city reality. Of "high-art" cover art and accessible poetry that lured us all in. The simplicity of ten songs and the complexity of ten Malchiks. A paradox of modern poetry.

- Wilhelm Muller, music historian and social commentator.
1
Sleep Over At Libby's
2
Jerry
3
Smugglers
4
Dr. Skank N. Stein
5
My Feet Told Me
6
Spanish Song
7
Fuck James Bond
8
Mario
9
Lover Boy
10
They Stole My Suit
11
Skankouver, B.C.
12
Drunk At The Carnival
13
Frog Song
14
Got So Drunk That I Peed Myself
15
Mr. Electic Pants/ Funkytown
Unreleased E.P.
After touring their first album from Vancouver to Montreal and back, the Malchiks began working on new releases and new songs. The efforts also included a photoshoot, album cover & CD designs and special recording sessions with Adam B. and "Q" (Independence and King of Rawk) as well as other sessions at Spawner Records Secret Recording Studio with Frank engineering (King Lear and many others including a studio version of Yo-Yo).
This album was never released and is generally considered lost. It's release would have included the songs below and possibly classics like Yo-Yo, Lonely Rudy.
All Skanadian Club III
7. Lonely Rudy
---
Videos
Get Over Me
Mr. Electric Pants
It's All Legal
When I Walk, looking back
On Tour: Cross the Street
On Tour: Returning to BC
On Tour: Thunderbay
2012 Reunion Show: Railway Club
In the Pictures
The above video for 'Get Over Me' was played on Much Music during the Late 90's
Malchiks tracks, especially 'Drunk at the Carnival' were regularly used for soundtracks by Students at the Gulf Islands Film and Television School (with permission).
When on Tour the band played live on Edmonton's A Channel.
Upon returning from Tour the band played at the 'Web Cafe' which webcasted the show live.
Although the band wasn't chosen, and the project never went anywhere, The Malchiks were in negotiations with television producers to star in a local show about a ska band.
More recently Zoe LaLiberté, sister of the Malchiks drummer, explained how she had worn the Malchiks T-shirt she's owned since she was 10, during her role in the 2009 horror film "Jennifer's Body" starring Megan Fox. After viewing the movie several times, the following images were captured and compared to the Malchiks T-shirt. The Malchiks are proud that Zoe wore a Malchiks shirt and got it featured in the film. After 9 years of hiatus, the band was still being remembered and publicized.
Thank you Zoe! You're a great sister and the most endearing fan!
External Links
Malchiks on Facebook: http://www.facebook.com/TheMalchiks
Malchiks on MySpace: http://www.myspace.com/themalchiks/music
Drop D Magazine: http://dropd.com/issue/47/ChangeOfHeart/
Drop D Magazine: http://dropd.com/issue/48/Pluto/
Drop D Magazine: http://dropd.com/issue/65/WarpedTour/index.html
Drop D Magazine: http://dropd.com/issue/35/Shindig/index.html
Definition on Everything 2: http://everything2.com/title/The+Malchiks
Definition on Urban Dictionary: http://www.urbandictionary.com/define.php?term=malchicks
Review of Band/Label: http://www.reocities.com/SunsetStrip/Diner/3185/links.html